West Bengal Higher Secondary Examination Result will be published after 12:30 on May 24th. Students can check their higher secondary examination results through various official websites and mobile apps.
The school will issue the students ' Marksheet and Certificate of Higher Secondary Examination on 31st May 2023 after 11 am. Before May 31, students can check their results through online websites and apps.
HS result check website link
Here, you can check your higher secondary exam result through multiple websites. The list of websites to check HS exam results is given in a table.
| | |
| --- | --- |
| | |
| | |
| | |
| | liveresults.jagranjosh.com/Result2021/jsp/wb/WB12.jsp |
| | |
| | |
| | |
| | |
| | |
| | |
| | bangla.hindustantimes.com |
| | |
| | |
| | indiatoday.in/education-today/results |
You can check your HS exam result from each website in the table.
How to check HS result 2023
To check the result, click on any of the 13 links in the table and if you click, the official website will open to check your result. There you enter your admit card roll, number and registration number and click on the submit button.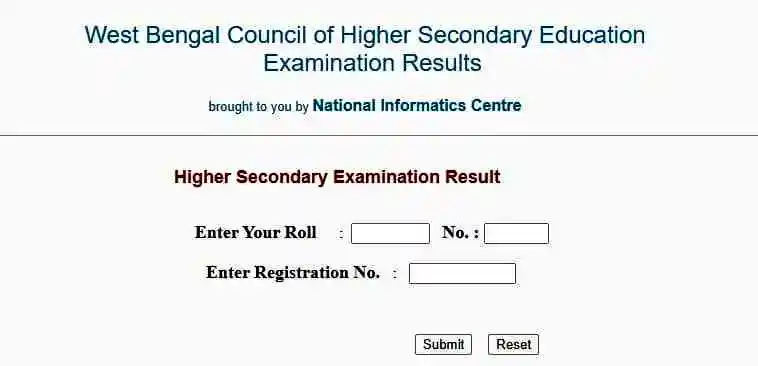 You can check your result as soon as you click on the submit button. This was the method of checking the result of higher secondary examination through the website or how you will check the HS result through the website I said.
Check HS exam Result through App
Then I will know which mobile app can check HS Results and how you can check the result with this mobile app.
To check HS Result through the mobile app, go to the play store and search "WBCHSE Results 2023" there.
After searching, the app with this name will download the app from Playstore.
After downloading, open the app, after opening, you will submit your admit card roll, number and registration number.
You can check your HS result when the admit card details are submitted.
If you check the result before 24 May. In that case, you can register with admit card details in the app. The notification of the result will come on your phone on the day of publication of the result on 24th May.
This was the method to check HS Exam 2023 Result. In this article, I have provided the website link to check all the results in the table. It will be convenient for you to check the results by opening the links from this table.
Next: উচ্চ মাধ্যমিক পরীক্ষার রেজাল্ট
I'm Sourav, (BA) Graduate. Specialized content writer. Get accurate information from Moneygita.