Saraswati Puja in Assam will be on Thursday 26th January this year 2023. Some beautiful moments (Images) of Saraswati Puja in Assam are shared with you. The ancient mystical history of Mother Saraswati Devi is narrated.
Goddess Saraswati is the goddess of learning and music. Among the many events that are celebrated in Hinduism, the worship of Saraswati is one of the events. This puja is mainly performed on Sri Panchami or Basant Panchami. Saraswati Puja is a puja mostly for students.
Several main staples are required in this puja, such as Avro Abeer, Amer bud, goat pen, Jaber sis, and spring-colored marigold flowers. By 1853 AD, despite Goddess Saraswati being a woman, no woman could offer pushpanjali in that puja.
In worship, the idol of the goddess was dressed in white cloth, because white cloth is a symbol of purity. Along with this, the seat of the goddess is decorated with flowers. The face of the goddess is kept covered until the priest starts the puja, the face of the goddess is allowed to be seen when the priest starts the puja.
Saraswati puja in Assam 2023
Saraswati Puja in Assam is celebrated with great joy in other states as well. This Saraswati Puja brings a wave of enthusiasm, especially to students. On this day everyone likes to wear yellow colored clothes, Punjabi, saree, churidar, etc. Mata Saraswati is considered as the goddess of wisdom, knowledge and learning.
On this day especially the residents of Assam and West Bengal celebrate Saraswati Puja with great enthusiasm in schools, colleges, institutes and other educational institutions.
| | |
| --- | --- |
| Saraswati Puja In Assam Date | Thursday, 26 January |
| Significance | Goddess of Learning |
| Other Name | Vasant Panchami, Saraswati Puja |
| Day | Thursday |
| Panchami Tithi Will begin on | 12:34 pm 25th january |
| Panchami Tithi Will end | 10:28 am 26th january |
Everyone gets ready to give pushpanjali in the morning by putting raw turmeric on their skin and taking bath and wearing new clothes.All the friends joined together to visit the neighborhood, and the school mandap to see Tagore.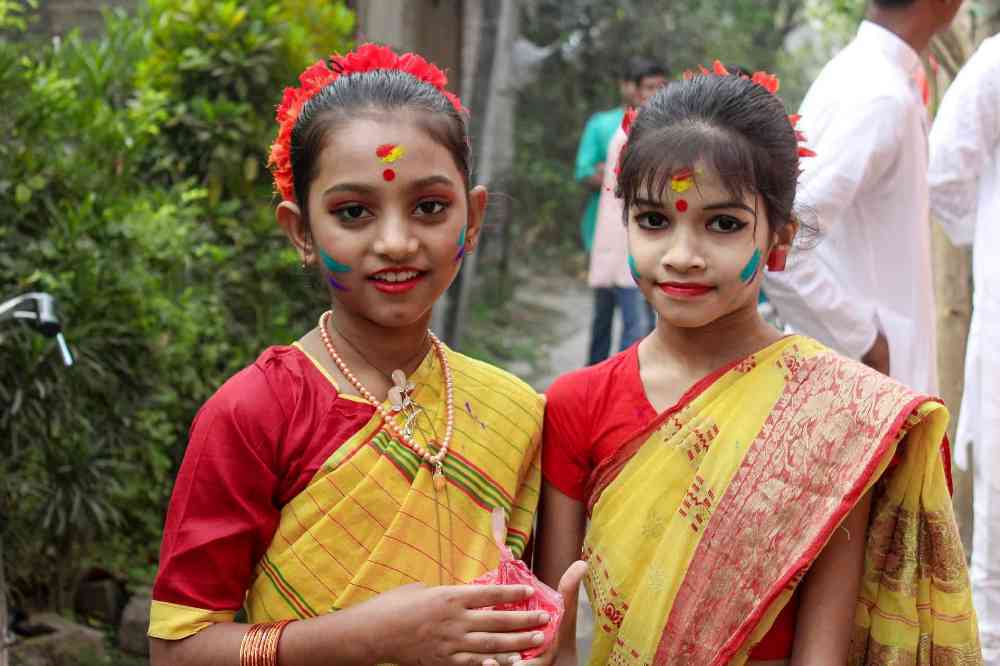 They keep their books to Goddess Saraswati. Everyone believes that they will do well in their studies and develop their intelligence. Khichuri is an interesting Prasad of Saraswati Puja in Assam. This Khichuri Prasad is loved by everyone. This prasadam is accompanied by eggplant, papad, cabbage curry, etc.
On this puja day, no student sits to study, that is, studying is completely prohibited on that day. Hindus worship Goddess Saraswati as their goddess of learning and music. The worship of Goddess Saraswati has been considered as one of the best worships of the Bengali nation.
According to the rules of classical Hinduism, Saraswati Puja is organized on Shukla Panchami Tithi of Magha month. This Tithi is also known by other names like Sri Panchami or Vasant Panchami.
In Assam and other states like West Bengal, North India, Nepal, Odisha, Bangladesh, etc., there is a lot of enthusiasm among the people on the occasion of Saraswati Puja. On the day of Saraswati Puja i.e. Shri Panchami, almost all the schools, students' homes, and also in various puja mandaps get up early in the morning and get ready to offer pushpanjali.
In Hinduism, on this puja day, children of all families are chalked for the first time. Also, rituals of Brahmin food and pitra Arpan are done at this time. Also, since the morning of the puja, everyone is busy in puja. In the evening, various cultural programs are organized in all the puja mandaps and other types of institutions.
Many of you may know that the day after Saraswati Puja is also known as 'Shital Shasti'. Again in Assam, the Arandhan process is still observed in some places on the day after Saraswati Puja.
Today Saraswati Puja Offers On Amazon
Now we know some information about the history of Saraswati Puja :-
Various information related to the history of Saraswati Puja in Assam –
Goddess Saraswati is a Vedic Goddess. Presently the worship of Vedic Goddess Saraswati as we see it has been modernized but since ancient times Goddess Saraswati was worshiped in a different way. According to various ancient sources, it is known that Goddess Bageshwari was worshiped as a duplicate of Goddess Saraswati by the common tantric saints of those days.
Also in the nineteenth century, it is seen that at that time, on the Shukla Panchami tithi of every month of Vidyalaya, a wash stool was taken and palm leaves were spread there and the practice of worshiping them by placing ink pots there was on.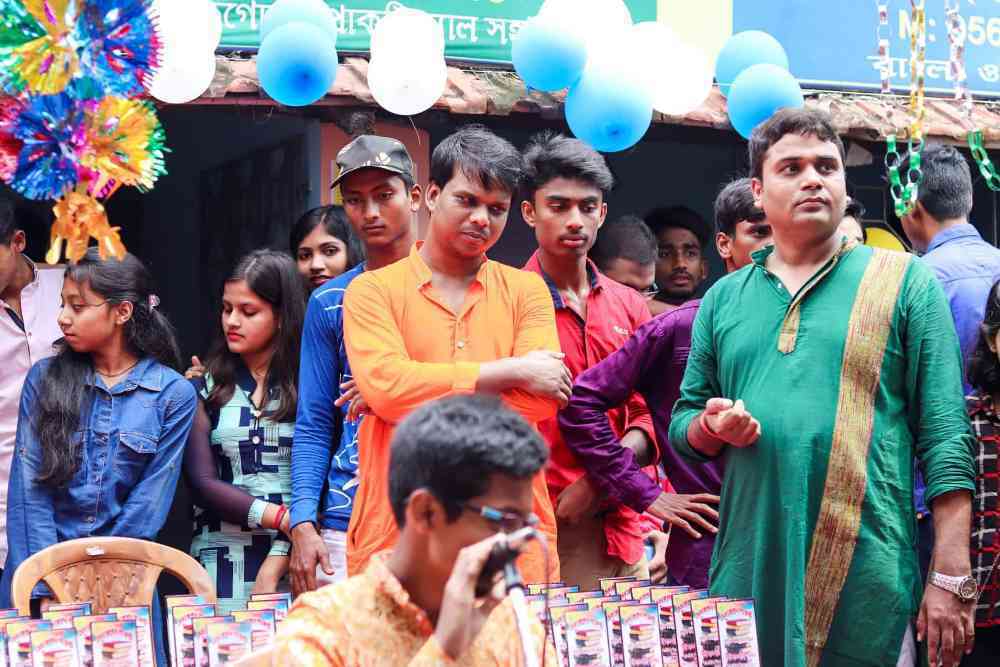 Many students used to organize Saraswati Puja at their homes with their Bengali or Sanskrit books, slates, ink pots, and pens. This whole practice can be seen to continue in rural areas in the 20th century. All the famous people of the city make idols of Goddess Saraswati and they finally take charge of the worship.
Since then, the practice of this worship brought much enthusiasm among the common people. Many people used to travel from far and wide to see the immersion of this puja. Now we see in our school's many events are organized on the occasion of Saraswati Puja. This practice has been prevalent since the beginning of the 20th century.
Spring is a beautiful natural environment. At this time we see every part of nature around us developing anew. Apart from nature, various animals and birds also enjoy their happiness. Every morning the sun seems to rise with new vigor, heralding a new dawn for the next day.
We celebrate the entire month of Magh with much joy and enthusiasm but the arrival of Vasant Panchami in Vasant Kal also has a great impact on Indians. Earlier we learned that Goddess Saraswati has been worshiped since ancient times.
Goddess Saraswati is worshiped as the goddess of knowledge, learning, music and art on Vasant Panchami and is celebrated as Goddess Saraswati's birthday. All the scholars who respect and love India or the principles of India worship Maa Saraswati on this day and pray to the Goddess to obtain more knowledge.
The content based on "Saraswati Puja in Assam"
Origin of Goddess Saraswati
Goddess Saraswati was first found as a goddess in the Rigveda period. She has been one of the main presiding deities of all the Hindu castes since the Vedic age till now. Goddess Saraswati was generally worshiped in two forms i.e. two-armed idol and four-armed idol.
When we see Goddess Saraswati worshiped in a double image, we see a veena and a book in her hands and when we see Goddess Saraswati worshiped in a quadrilateral image, we see a book, Akshmala, a pitcher and a veena in her hands.
In Hinduism, however, each of these objects has a different meaning.
The people who belong to Pachism Bharat and Madhya Bharat and are also exceptional from Jainism still worship the Goddess Saraswati. Some Buddhists also worship Saraswati.
Saraswati Name Etymology Meaning
The word Saraswati is composed of two separate words. One is 'Saras( সরস)' and the other is 'Vati(বতী)'. Both these words are Sanskrit words. The word 'Saras' has two meanings i.e. its literal meaning is lake and its other meaning is 'speech', and the word vati means 'proprietress (অধিষ্ঠাত্রী)'.
The name Saraswati was associated with the names of many rivers in ancient times, so another literal meaning of the name is 'a goddess who is a lake' and proprietress of Pushkarini' or 'That goddess is the proprietress of words'।
According to the Sanskrit language the word Saraswati can be divided in other ways like সরস + অতি but in this case the word stands for a completely different meaning like 'one who knows how to hold more water'. In the Rigvedic period, a goddess and a river both come up with the same meaning and that is Saraswati.
All the initial verses that contain the word Saraswati are said to mean river Saraswati and the goddess Saraswati is presented as a deity. It is also known that Saraswati is revered as a superior goddess and a river in the second mandala of the Rigveda.
Now in the modern era like the Ganga river carries a lot of importance to every one of our Indian descendants. Just like this goddess Saraswati was of equal importance to ancient Indians during the Vedic period. It is known that Goddess Saraswati is considered as 'Goddess of Knowledge( জ্ঞানের দেবী )' since the famous Tenth Mandal of Rigveda.
After this, the practice of Goddess Saraswati started to increase in the rest of the Vedas composed by the Rigveda. And in all these texts, the meaning of the word Saraswati gradually changed. For example, 'sanctifying water' changes from 'which sanctifies all', 'word which sanctifies', and 'knowledge which sanctifies' all these meanings.
Being transformed in this way, it takes on a spiritual form which means that she is the creator of knowledge, art, music, melody, poetry, genius, language, ornament, various creative works and all those things which essentially sanctify man. Become a genius. In all the religious scriptures, Goddess Saraswati's role is to remind the person of the fruits of his actions, fruits of purity, worship of virtues, etc.
Goddess Saraswati was known by various names in ancient Hindu literature. For example, some notable names are Brahmani, Bharti, Barnes Hari, Kavi Jibba Grbasini, etc. Goddess Saraswati is also known as Vidya Datri, Veenapani, Pustak Dharini, Hansa Devi, Bagdevi, and Bina Badini.
The content based on "Saraswati Puja in Assam"
How Celebrated Saraswati Puja in Assam
On this day all the students wear new clothes and come to the puja mandap. They all fast from morning to give Anjali. After offering anjali, they first take the prosad of saraswati puja then eat other food.
All keep their books beside the statue of Goddess Saraswati with respect. Everyone believes that Goddess Saraswati will develop our intellect. Various schools, colleges and educational institutions organize events in the streets.
In this event, the students participated in dance, song, picture recitation, etc. and made the event entertaining. Khichuri is a well-known Prasad of Mata Devi which is loved by all. Everyone gathers together happily and takes this khichuri prasad.
When is Saraswati Puja in Assam?
This year Saraswati Puja in Assam will be held on Thursday 26th January 2023.
When is Saraswati Puja in Kolkata?
Saraswati Puja brings tidings of joy to the city of Kolkata. Saraswati Puja will be held on January 26 in Kolkata this year.
What is the timing of Saraswati Puja?
The period of Saraswati Puja is January-February months and it is held on Vasant Panchami.
When is Saraswati Puja in 2023?
Saraswati Puja occurs every year in the month of Magha, which is in late January and early February. In 2023 the Saraswati Puja will be held on 26th January 2023.
What is the date of Saraswati Puja?
The date of Saraswati Puja in 2023 is Thursday 26th January.
In which season is Saraswati Puja celebrated?
Saraswati Puja is held on the Bengali month of Magha. It's called Basant Panchami.It marks that Spring will come soon. It is very important for Hindus as they believe that Goddesses Saraswati is a Goddess of Knowledge and peace. It is celebrated probably in the month of January or February.
Also Read:
I'm Sourav, (BA) Graduate. Specialized content writer. Get accurate information from Moneygita.