In this article, you learn how to search Kanyashree ID number by Date of Birth.
Applicants can search for their Kanyashree ID number with the help of their date of birth by following some simple steps. Below is the easy way to search Kanyashree ID number. Read the full article to know how to search the Kanyashree Application ID number by Death of Birth.
Kanyashree ID number search by Date of Birth
The method of searching Kanyashree's ID number with the help of date of birth is given below.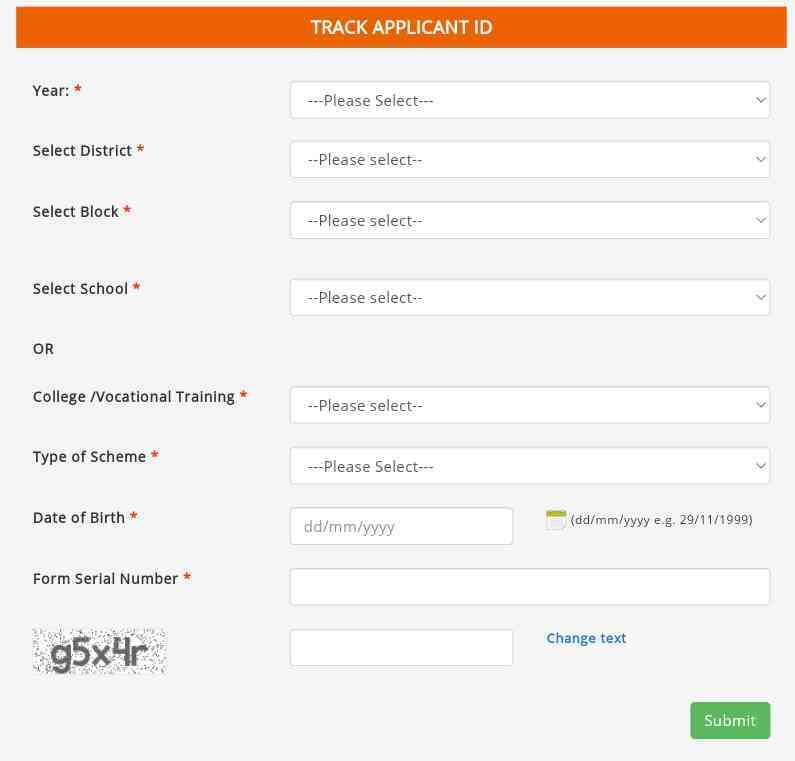 First, click on the text "Track Application ID" (link given below) which will take you to the application ID number search page.
There are some questions on the application id number search page which you have to fill up.
Select the year in which you applied for Kanyashree, then select your district, and block, and select the school name or college/vocational training.
Then you have to select the type of scheme. There are two types of schemes. The first type of scheme is Annual Scholarship (Form K1)/Renewal and the second type of scheme is a one-time grant(form k2)/Upgradation.
Then enter the date of birth of the applicant, then fill in the form serial number and capture the applicant and click on the submit button.
Complete all these details and click the submit button to see your Kanyashree Application ID.

What is Kanyashree Prakalpa
The Kanyashree project aims to prevent girls from marrying off before the age of maturity and to provide financial support for girls to continue their education. This Kanyashree project has been launched by the West Bengal Government which is managed by the West Bengal Women Development and Social Welfare Department.
However, there are some conditions for payment of Kanyashree money which are discussed below. The objective of the Kanyashree project is to prevent girls from marrying before the age of 18 and empower them by providing them with proper education.
The money for this Kanyashree project is given in two ways. In the first phase, 1,000 rupees per year are given to girls between 13 and 18 years of age who are studying in school, and in the second phase, after 18 years, 25,000 rupees are sent to the girls' bank account at once.
But to get this benefit of the Kanyashree scheme, girls have to continue their education till 18 years. Like many schemes in West Bengal, this Kanyashree project scheme has also become a successful scheme.
Millions of girls in West Bengal are benefited from this scheme every year. The main objective of this scheme is to develop the education and skills of girls through financial assistance in higher education of girls. This program is established for the welfare of adolescent girls thereby improving the future of girls, ending child marriage, and preventing school dropout.
Benefits of Kanyashree Prakalpa
The benefits of this Kanyashree scheme will be available to girls aged 13 to 18 years who are studying in government schools and colleges in West Bengal. Under this scheme, the West Bengal government will transfer cash to the bank accounts of the girls.
Every girl studying in the school who is admitted to the school will be given Rs 750 first and a scholarship of Rs 1000 annually. However, to get the benefits of this project running, the students have to continue their studies.
At present it can be said that the Kanyashree project has succeeded in fulfilling the objectives for which it was conceived. As a result of this scheme, child marriage among girls in West Bengal has been reduced, girls have focused on higher education and their performance has improved.
The success of the Kanyashree project has been so huge that it has been recognized by international awards and received the United Nations Public Service Awards in 2017. Kanyashree's project has also been honored with several other awards.
The Kanyashree scheme does not only provide education to girls. Apart from imparting education, the Kanyashree project also develops the skills of girls and emphasizes their higher education. They are given vocational training and counseling which helps a lot in their future career.
Kanyashree Scheme provides vocational and financial support to girls for pursuing higher education. Another major feature of the Kanyashree project is the emphasis on extending the benefits of the project to marginalized communities.
The Government of West Bengal has played an important role in making the benefits of this program available to girls in rural and tribal areas. Also, this Kanyashree project is providing special support to financially support and encourage the education of disabled girls.
This project has been able to prove how it is possible to solve all the problems faced by providing financial support to girls in education, to develop their education and skills, and encourage them to be strong.
Seeing the positive impact of the Kanyashree project, it has spread to other states of India. This scheme has been adopted to improve girls' education in other states of India including Jharkhand, Bihar, and Orissa. Besides India, this Kanyashree project has inspired other countries like Bangladesh and Vietnam.
As a result of this Kanyashree project, many girls in West Bengal have had a positive impact on their careers and have felt more confident and empowered.
How do I find my Kanyashree ID number? 

To find the Kanyashree ID number visit the wbkanyashree.gov.in website. Then open the "track application ID" page of this website. In this "track application ID" page, the year of application in the Kanyashree project, the name of the district, block, school/college, or vocational training of the applicant, scheme type, date of birth, form serial number, and capture must be filled correctly. You can find the Kanyashree ID number by filling in all this information correctly on the page and clicking on the submit button.

What is the helpline number of Kanyashree  Prakalpa?

7439178586 is the helpline number of Kanyashree Prakalpa.
I'm Sourav, (BA) Graduate. Specialized content writer. Get accurate information from Moneygita.