PM SVANidhi Scheme application form pdf, Pm SVANidhi yojana online registration, eligibility, interest rate, subsidy.
To download this Pm SVANidhi scheme application form PDF file please scroll down a little bit. Also, we have given the complete process of PM SVANidhi yojana online registration below.
PM SVANidhi Yojana Online Registration
The step-by-step guide is given below for PM SVANidhi Yojana online registration. The registration form is available in the portal and the vendor's identification no in a survey conducted by ULB or TVC town vending committee.
STEP 1: Visit the website- At first visit the official website. .http://pmsvanidhi.mohua.gov.in/search will have to be given in the application form. All other documents such as Adhaar card, bank passbook, photo and voter identity card along with survey search identification should be given.
STEP 2: Made Loan application- identify yourself by clicking on the loan applicant tab on the website https://pmsvanidhi.mohua.gov.in/Login
STEP 3: Login using mobile number- street vendors can log through their mobile no and requests for OTP can be forwarded. Once the OTP comes on their phone they can use it to log and further process the application. They need to verify their OTP. After verification the form opens up and further details can be added
STEP 4: Check Vendor Category– The vendor category should be checked first conducted in the survey made by UBL or TVC.
Other necessary things regarding PM SVANidhi Yojana:
A certificate of vending should be possessed by Local Urban Bodies. If they possess an identity card or COV issued by the UBL or TVC then it will be considered.
Despite having a survey in the vending list, if their names are not yet available, but they are in possession of Identity Cards by TVC (Town vending committee) then they he/She will be considered eligible.
He/she will be eligible for a loan if he is a bonafide vendor executing his business in his locality and clean history of loan repayment.
PM SVANidhi scheme online application form pdf download link you get from next heading.
PM SVANidhi Scheme Application Form 2023
Pm SVANidhi Scheme application form: You can download the application form or registration form for the PM SVANidhi scheme through the link given below.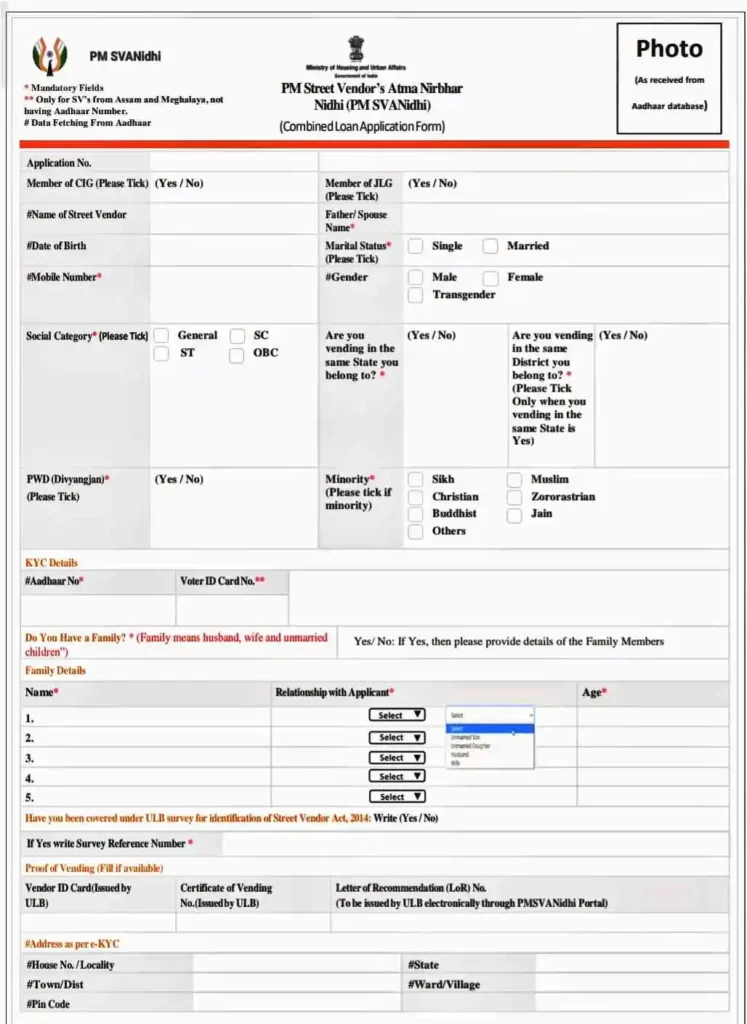 The initiation has been launched by the Government of India by opening a fund called Atmanirbhar Nidhi In order to provide initial investment in vending or capital as a loan whose amount is ranging from Rs.10,000 – 50,000 depending upon the vendor's category and loan repayment history.
The government has re-launched this in this current financial year.
What are the documents required for PM SVANidhi scheme
The required documents for PM SVANidhi are:
Voter's Identity Card
Driving Licence
MNREGA Card
PAN Card
A recent photograph is to be attached.
Name and spouse name should be given including all the family members.
Adhar link mobile phone should be there.
LOR(letter of recommendation) from ULBs or TVC should be there. A certificate of vending doc issued by an authorized body should be handy to make this application.
Banking details are required.
The local and permanent address should be given.
The category of vending should be mentioned.
Hypothecation should be acknowledged and it is to be placed in the marketplace at your business site.
The required loan amount and required tenure.
A declaration will have to be made.
After filling up the form the receipt should be preserved.
What are the benefits of PM Svanidhi Scheme?
PM Svanidhi has been launched by Housing and Urban Affairs with the following benefits:
To disburse a working capital up to `Rs.10,000 initially will be increased afterward.
The street vendors will have new opportunities in this vending sector to upgrade their services.
The PM Sva Nidhi scheme will help them to formulate their vending structure.
The government will provide subsidies while they repay their loan.
Eligibility of PM SVANidhi Yojana
PM SVANidhi Yojana Eligibility for vendors for all the states and union territories:
The Scheme is available in the states who have notified Rules and Schemes under Street Vendors (Protection of Livelihood) Regulation and Livelihood of Street Vending) Act, 2014.
Besides this, they need to acquire a certificate of vending from urban local bodies or municipalities in the case of a city and in rural sectors from gram panchayat.
Eligibility parameter for Beneficiaries :
All street vendors engaged in vending in urban areas will be eligible for this benefit. The eligibility document is a certificate of vending to be obtained from Urban Local Bodies (ULBs):
If a Certificate of Vending / Identity Card is still to be issued but a survey has been successfully conducted in their area then an authorization letter is to be procured from ULBs.
Certificate of Vending / Identity Card should have been uploaded by the applying vendor while the application is made.
Certificates of Vending generated for such vendors will be reflected in the IT Platform.
letter or recommendation from TVC (Town vending committee) could be one of the eligibility criteria for those who might have missed the survey.
A letter of Recommendation (LoR) can be generated by ULB / TVC.
Article about: PM SVANidhi Scheme application form pdf & Pm SVANidhi yojana online registration.
PM SVANidhi Yojana Rate of Interest
Lenders will be Scheduled Commercial Banks, Rural Banks, Microfinance Banks (MFBs) and Cooperative Banks Banks. In the case of NBFC, NBFC-MFIs, etc. once the loan is sanctioned. interest rates will be reviewed as per RBI guidelines. A subsidy on the whole loan will be provided.
Interest Subsidy
At the rate of 7% subsidy can be claimed by the borrower The interest subsidy will be credited into the borrower's account quarterly.
Promotion of Digital Transactions
Digital transactions by the vendors will be encouraged by the government and there would be incentive for it.
Obtaining a Certificate to be a bonafide vendor:
Whether they have been identified by ULB or the town vending committee and if omitted then a certificate will have to be issued by those bodies that have started their vending, after their survey. This way they produced their authentication if they had missed the survey.
If the certificate is not available then a letter of recommendation should be issued by them or by the bodies of ULB(Urban Local Bodies) and TVC
How can I check my PM SVANidhi loan status?
To know the application status of the PM SVANidhi form please visit our webpage and follow the steps given below.
To know the application status first of all we need to visit the official website of the PM SVANidhi Yojano 2023 by clicking on the official link i.e. https://pmsvanidhi.mohua.gov.in/
Now we have to click on the option given as the heading "Know your application Status"
Then we have to enter our application number along with the registered mobile number.
After entering the OTP which has been sent to our mobile number we have to click on the Search option.
The application status will be visible on your screen.
What is the PM SVANidhi scheme for street vendors?
| | |
| --- | --- |
| Article about | SVANidhi scheme Application form |
| PM SVANidhi full form | Prime Minister Street Vendor's AtmaNirbhar Nidhi |
| PM SVANidhi Required Documents | Aadhaar card, Voter ID card |
| Beneficiaries | street vendor |
The scheme has been introduced by the Ministry of Housing and urban affairs to facilitate rural and urban vendors. Our endeavor is to provide detailed information through this article. We all know that street vendors constitute one of the important parts of the city as well as in the rural sector.
They help us to boost the country's economy and the government is helping them to establish their business by providing microloans. The online application process for street vendors was first started in the year 2020 on 29 June. In this article In PM svanidhin yojna you can download the application form in PDF.
In addition to this, you will get to know how to apply for this scheme, eligibility criteria and objectives. A guide will also be given regarding the online application procedure. To download the application form the link is given here. PM SVANidhi Yojana application form is available in PDF format.
How to download SVANidhi application form?
To download the SVANidhi application form simply visit our website and click the application form download button.
What is the maximum loan amount in PM SVANidhi?
The PM SVANidhi scheme's maximum loan amount is 50,000 rupees.
How do I contact PM SVANidhi customer care?
To contact PM SVANidhi customer care we have to dial the following given number 1800 11 1979.
Conclusion:
We hope that after going through this article you have successfully downloaded the Pm SVANidhi Scheme Application form necessary to apply for this PM SVANidhi Yojana. This article also provides information regarding eligibility for this PM SVANidhi and the Pm SVANidhi Scheme online registration process.
Toral knowledge about the beneficiary and available loan amount, subsidy, etc have been discussed in this content.
Next:
Telangana gruha lakshmi scheme application form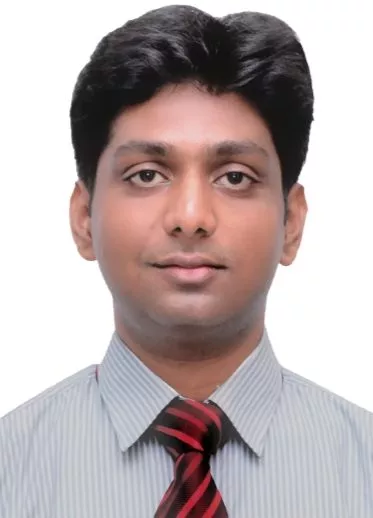 I am V. Manohar, a B.Sc graduate. I am working on an online application and form fill-up-related work. Apart from keeping an eye on various government schemes, I like to share information about them through the Moneygita.