Let's know how to register on the 'MY Bharat' Portal (Mera Yuva Bharat) through mobile number and email ID.
MY Bharat also known as Mera Yuva Bharat was launched on 31st October 2023 by our honorable Prime Minister Shri Narendra Modi to provide a platform for youth with a motive to build a developed nation.
MY Bharat will give the youth an opportunity to acquire leadership qualities, participate in different events, connect with different types of people, and also to have experiential learning experiences.
MY Bharat Porat (Mera Yuva Bharat)
| | |
| --- | --- |
| Portal Name | MY Bharat (Mera Yuva Bharat) |
| Launched By | Prime Minister Shri Narendra Modi |
| Under Ministry | Youth Affairs and Sports |
| Category | Government Scheme |
| Launched Year | 2023 |
| Objective | Youth Development For a Developed Nation |
| Beneficiary | Youths of India |
| Date of Launching | 31.10.2023 |
| Official Website | https://www.mybharat.gov.in/ |
| Application Mode | Online |
What is MY Bharat?
MY Bharat is a great initiative taken by the Government of India which is a technology-driven portal created to support and enhance youth development in India. It is a centralized database portal that is designed basically for the involvement of the youth in building a better nation.
On the 106th edition of Mann Ki Baat, Shri Narendra Modi shared the thought of launching MY Bharat (Mera Yuva Bharat) so that the youth of India can be given an opportunity in various nation-building events to make them connect with proper businesses, government organizations, and non-profit organizations.
Required Age Criteria for MY Bharat Registration
The required age criteria for applying for MY Bharat is set between 15-29 years.
MY Bharat Online Registration with Mobile Number
Step 1: First, go to @mybharat.gov.in portal for MY Bharat registration by mobile number.
Step 2: Click on Register with Mobile Number.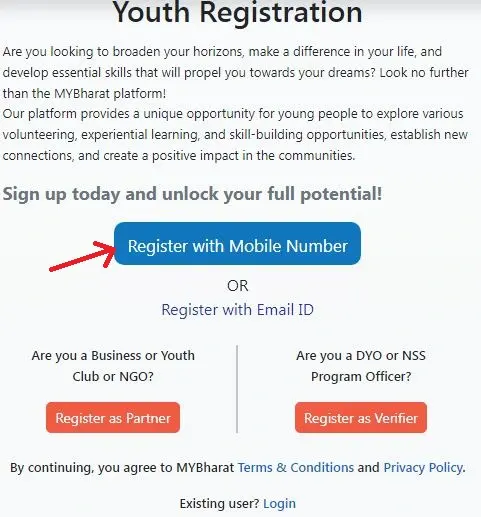 Step 3: Enter your Mobile number and click on Generate OTP.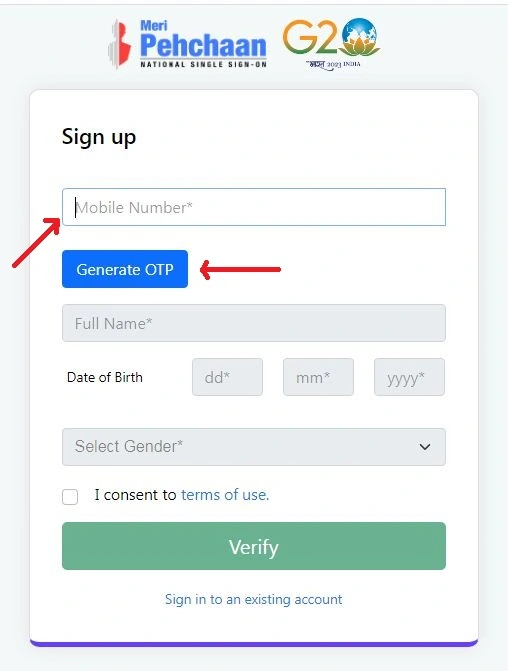 Step 4: Verify the OTP to proceed.
Step 5: Enter your Full name, Date of Birth, and Gender, and click on Verify.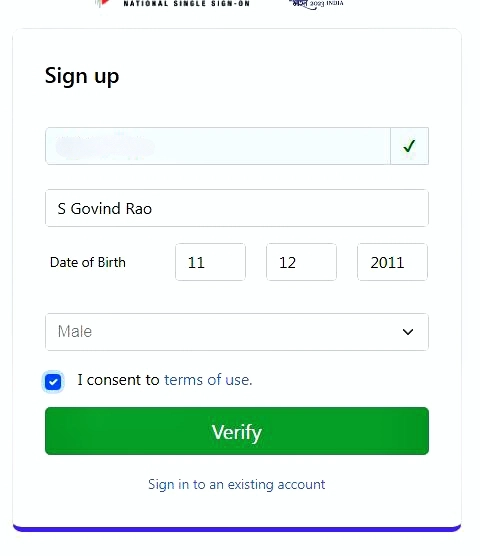 Step 6: Fill up the Registration form carefully.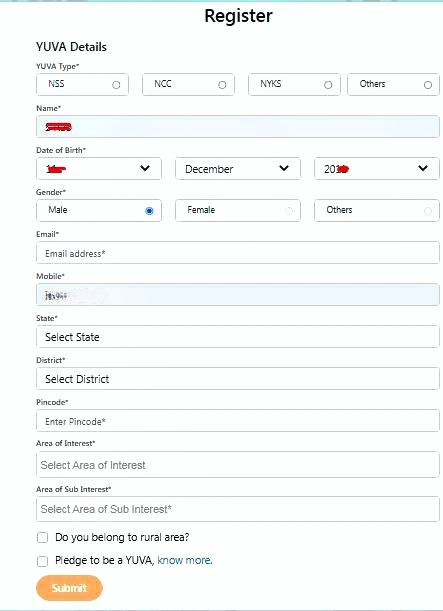 Step 7: Submit it to complete the registration process.
Mera Yuva Bharat Online Registration with Email Id
First visit the MYBharat portal for Mera Yuva Bharat Online Registration with email ID.
Click on Register With Email ID.
Enter your Email ID and verify with OTP
Enter full name, date of birth, and gender, and click on Verify.
Click on Allow and fill up the Registration form
Submit it.
MY Bharat Registration Process Flowchart

MY Bharat Benefits
The following benefits are to be given under MY Bharat
Improving leadership skills of youth under organized program activities.
More importance is given to skill development to make them problem solvers.
Proper education with experiential learning is the main focus of MY Bharat.
Advanced entrepreneurship training will be provided to make youth leaders in their communities.
An increase in the employment rate will improve the economic progress and development of India.
More practice of social activity involvement among the youth to take responsibility.
A complete database of young people will be created to make them work together under proper guidance and training.
Improving the communication between the government and the youth to work more effectively on developing India
It will fulfill the dreams of the youth to create a better career for them and make them future leaders and entrepreneurs.
Facilities Given Under MY Bharat
Many facilities are being given under the MY Bharat portal of which the main points are given below
Events Participation:- Youth will have the opportunity to participate in events where they can showcase their talent and celebrate vibrant culture to become the driving force of development.
Experiential Learning:- Under proper guidance experiential learning will be given to youth on selection of their corresponding location, status, skill, and functional area.
National Youth Festival:- A wide range of activities such as cultural performances, competitions, workshops, sports events, etc. will be provided to youth to showcase their skills and talent.
Positive Impact of MY Bharat
Following are the positive impacts of MY Bharat
It is a unique opportunity for young people to explore various volunteering services and experiential learning.
Skill-building opportunities under experienced mentors are to be provided.
More social activity involvement will create a positive impact in their communities.
Occupational skill development, youth leadership, and community participation are the main functional areas under MY Bharat.
Improved employment opportunities with a bright future will be provided to all youth.
Proper guidance will be given under experienced mentors to the business starters.
Marketing and funding opportunities with proper support will be provided.
MY Bharat will inspire youth to develop more leadership skills to take responsibility for development
A good platform for all the youth to achieve better economic progress and development.
Mera Yuva Bharat Objectives
The main objectives of MY Bharat are as follows
To improve the development of India with the help of youth.
Fulfilling their dreams of youth and giving them a bright career.
To create Viksit Bharat under the guidance of the Government.
A centralized database for youth to monitor them with proper support.
Advanced skill training with a good leadership program will be provided.
Youth -A Key For Development
Youths are important for development in many ways as given below
They belong to a large and growing proportion of the population in India which is a very important aspect of development and progress.
Youth are the main driving force for the country's economic and social development.
Having the advantage of being more educated, highly skilled with good knowledge of advanced technology, youth will be the key to modern India
They can take responsibility for jobs in high-growth sectors such as technology and services.
A strong entrepreneurial approach with good innovative ideas will bring more development and growth to Indian market sectors.
Youth can take job responsibility easily in healthcare, education, and engineering sectors with proper guidance and training under the MY Bharat portal
MY Bharat Highlights
A good initiative launched by the Government of India to provide direct benefits to the youth for the development of our nation.
To transform the youth as the sole active drivers required for development and not as passive recipients.
MY Bharat portal is being launched on 31st October 2023 to honor Sardar Vallabhbhai Patel on National Unity Day.
A complete digital platform where the youth can access the support of training skills, leadership development, and experiential learning under proper guidance.
My Yuva Bharat aims to make youth great leaders to make our nation more strong and developed.
MY Bharat- A Complete Innovative Platform
MY Bharat has been launched with the motive of providing a platform for all youths of India to have an equal chance of pursuing their dreams and contributing to the development of Viksit Bharat. The main motive of MY Bharat is to help the youth become successful leaders and entrepreneurs in the future to create a developed nation.
It is a golden opportunity for all aspiring youth to succeed in life and raise the prosperity of our nation.MY Bharat is a unique effort of implementing Yuva Shakti for building a developed India which will involve all the aspiring youth to work together under proper training and guidance.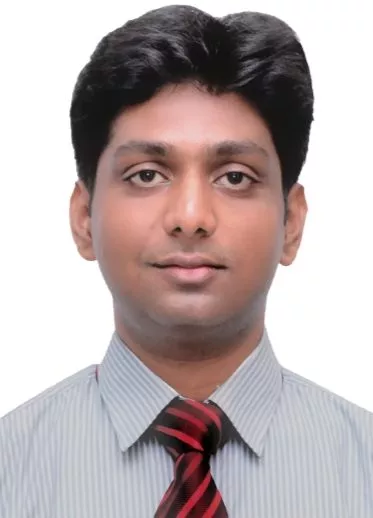 I am V. Manohar, a B.Sc graduate. I am working on an online application and form fill-up-related work. Apart from keeping an eye on various government schemes, I like to share information about them through the Moneygita.